June, 17, 2010

Sylvain
Je reviens de 4 jours passés à Santorin pour présenter le papier suivant :
Brief announcement: Lower bounds on communication for sparse Cholesky factorization of a model problem. Laura Grigori, Pierre-Yves David, James Demmel and Sylvain Peyronnet. SPAA 2010.
Santorin est indéniablement un endroit très sympathique, que je conseille pour passer une semaine de vacances sans aucune hésitation. Même si il y a beaucoup de touristes, dés que l'on s'éloigne un peu du centre pittoresque, on découvre un endroit toujours magnifique et plutôt tranquille. cependant, le soleil qui tape vraiment très dur, et ce n'est rien de dire que l'on a souffert de la température. Bref, quelques petites photos (depuis mon iphone) pour vous montrer l'endroit :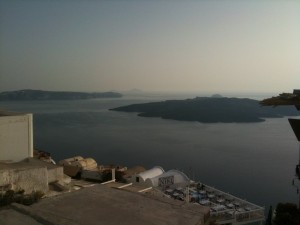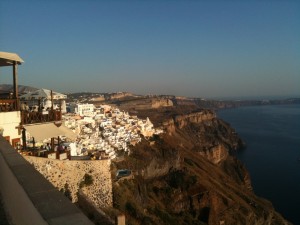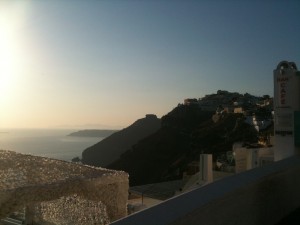 Comme vous pouvez vous en rendre compte, il y a quand même un coté sympa dans mon boulot. Le soleil est tellement écrasant (photos prises vers 19h) que la lumière parait bizarre, mais je vous assure que le ciel est d'un bleu sans failles.
Bref, tout ça pour dire que j'étais à SPAA 2010, que j'ai vu plusieurs exposés très intéressant, j'ai été ainsi particulièrement intéressé par les suivants :
Petra Berenbrink, Andre Brinkmann, Tom Friedetzky and Lars Nagel. Balls into Bins with with Related Random Choices.
Article très technique (ce qui se voyait dans l'exposé) mais résultat intéressant.
Keren Censor Hillel. Multi-Sided Shared Coins and Randomized Set-Agreement.
Charles Leiserson and Tao Schardl. A Work-Efficient Parallel Breadth-First Search Algorithm (or How to Cope with the Nondeterminism of Reducers).
Seth Gilbert, Rachid Guerraoui, Faezeh Malakouti and Morteza Zadimoghaddam. Collaborative Scoring with Dishonest Participants.
Je n'avais pas repéré cet article à l'avance, mais l'utilisation faite d'un système de recommandation dans ce papier est amusante.
Guy Blelloch and Kanat Tangwongsan. Parallel Approximation Algorithms for Facility-Location Problems.
Dave Dice and Nir Shavit. TLRW: Return of the Read-Write Lock.
Pour celui là c'est différent, je n'ai même pas lu l'article, loin de mes problématiques, mais l'exposé était très bien : vivant, amusant, je félicite Nir Shavit pour cela !
Sinon, la question qui se pose est la suivante : est ce qu'il est raisonnable de faire des conférences dans ce type d'endroit ? Bien sur j'ai adoré l'endroit, mais le voyage est plutôt long (pour les européens : 2 avions et une grosse demi journée, pour les autres c'est 12 à 16h minimum) et l'assistance a tendance a être clairsemée (le dernier jour par exemple nous n'étions pas beaucoup dans la salle).